Don't forget this is all posted originally at my new THE GILLIAN'S HEART BLOG!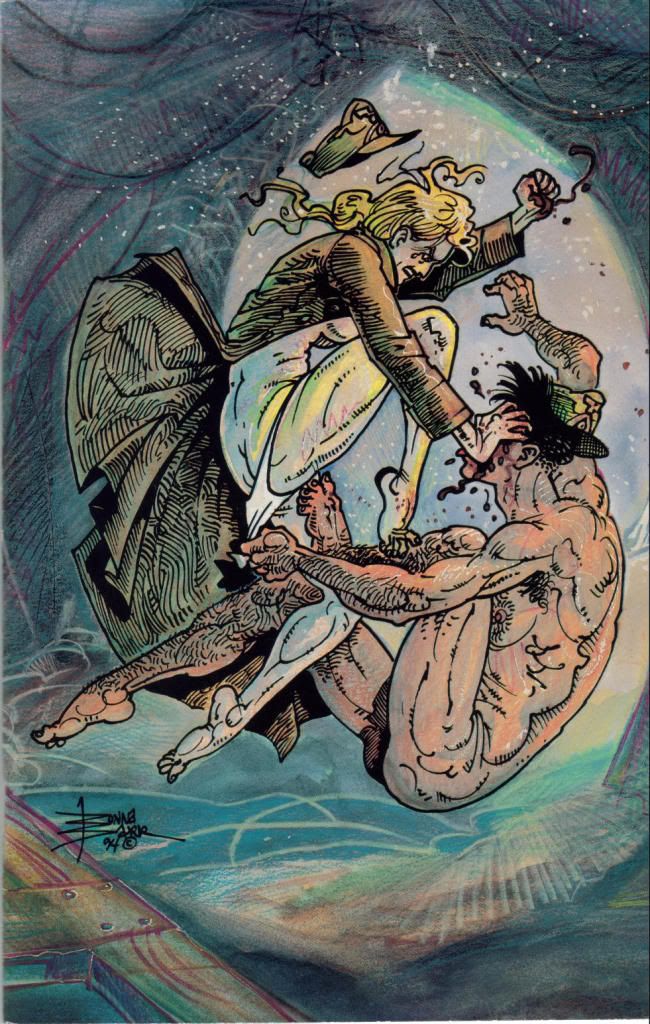 Okay, first off, sorry for the few days away. I'm busy on a side project that hopefully should get cleaned up and absored into my daily routines in another week or so, but for now, sporadic installments it's going to be.
On a really sweet, look-what-a-good-boy-I-am note, I'm finally back on track with reading my massive, completist DONNA BARR collection, and in my never-ending quest to get people to READ this woman's work, I'm back to blogging about it. I plan, in the near future, to do a whole lot more for her, but for now...let's blog!
Donna Barr...Donna Barr...she's a genius creator, or chaneler of fictitious character's voices (as she'd likely claim - "I have no control over these people!" is practically her mantra, when it comes to her writing). Her art is equally as drop-dead drool-worthy gorgeous with its mesh of incredible detail and automatic-sketch-like freneticness. She's my god(des) of comicdom, I shit you not. So let's look at the latest:
THE DESERT PEACH #22: LADY LUCK
Ah, yes. The rape issue. Sort of. I'd heard a fair controversy of this one, because god forbid the topic of human sexuality and the horrors it causes doesn't become controversial. Conversation worthy is always nice, and worthwhile. Controversy? Sometimes I feel controversy is the only "buzz word" that actually exists. All other so-called buzz words are merely arbitrary triggers sleected for the sole puprose of spinning ourselves into a frenzy of controversy. We love it. We adore it. Without controversy, we live in not-so-interesting times, and that would be pitiful, so controversy we shall find. Sex, rape, genitals, penis, vagina, and tits, will forever help us find it and find it pretty damn effortlessly, seeing as how we all have them or at least are surrounded by them on any given day.
But I'm digressing - the rape issue. A lone woman finds herself attached to Pfirsich's (the Desert Peach's - who's the gay younger brother of the infamous Desert Fox) regiment in Afrika, and so all the men immediately begin to rile themsleves into infantile impishness - they shift between compliments and casual slurs with the speed of the clinically bi-polar, calling the girl foxy and cow and all-around undecided on which animal she should be to them.
The girl, in turn, knowing the army and how men in the army (away from women on the whole) generally are, remains aloof and distant and entirely untrusting. Pfirisch, being a take-carge kind of guy and blissfully naive, tries to smoothen things out by treating the lady like "a lady, which does little but prove to the poor girl that she's been targeted as an object for unwanted male affection - and from an officer no less!
The men quickly decide the uppity beeyotch needs to be taken down a peg, and so devise a little rendevous between another officer and the woman, which goes...shitty...kind of literally...though nothing as disgusting as you're all likely thinking at this point. Still, the question of improper advances, attempted rape, and the danger of following one's emotions be they self-rigteous or self-involved, be they hidden as love or self-preservation. This one walks a fine line, but, as with most Barr stories, the line is more schwoogled and trotted and performed Chinese acrobatics upon, rather than simply walked.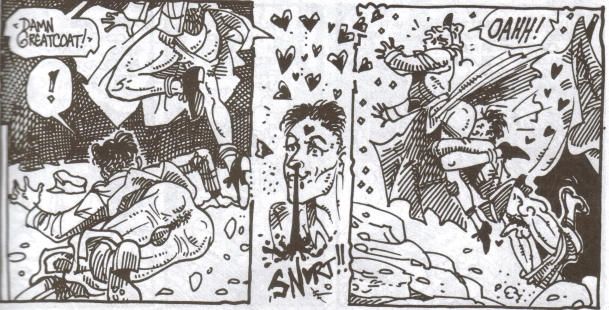 Perhaps one of the most interesting and long-term relevant moments of this issue
, even though it occurs kind of as a side note, if Pfirsich's confrontation with his brother, Erwin (The Desert Fox), about the Peach's homosexuality. Erwin's known, and seemed suportive of such in past issues, but here a quick temper-flare brings out that he's forever hoped Pfirsich would "get over this phase" and stop being so childish, and that the homo-erotic stuff does actually sit uneasy with him. A fantastic little dig, especially as the readers were likely (I was) as convinced that Erwin was on Pfirsich's side as Pfirsich was! So this sudden outcry is as effective and affecting to us and to the characters - yet another Barr par for the course. This is drama, mixed with innocent charm, mixed with explicit adult content, done somehow poignant and thought-provoking and touching on a scale I rarely encounter in comics.
And her art is beginning to move into something astonishing here: she'd gone from tight detail in the early issues, to a much looser flair in more recent books, to finally here a tempestous balance between the two. It looks amazing. Here's a full page just to ogle and read (click for larger veiwing):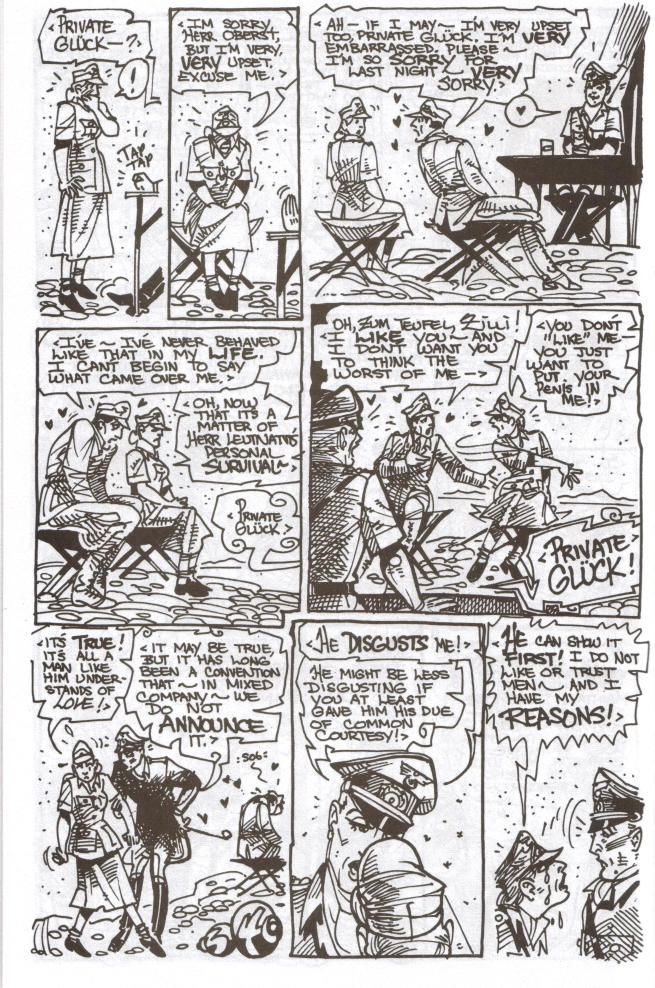 You can buy this issue by going HERE.